Introduction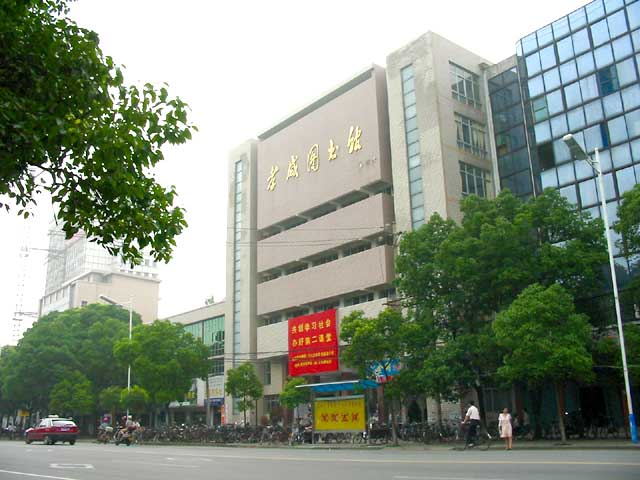 Xiaogan city library was founded in 1978.Atpresent, Xiaogan city library has total construction area of 4200 squaremeters, with rich collections of printed literature, Electronic literature,audiovisual materials, network documents in all disciplines, combining entitylibrary collection system with virtual library collection system. Among thesecollections ,there are about 300,000 books, more than 600 different kinds ofperiodicals and newspapers, more than 6TB digital resources accessible. Thelibrary has many services windows such as book outside-lending area, journalsreading area, document searching area, children's borrowing area,audio books reading area for Braille readers, readers activities and trainingarea. Through these services windows, the library provides literature lending,information consultation, project retrieval, public lecture, digital resource,youth cultural activities and other services. in 2011,the library realized thegoal of being opened to the public free of charge.
Stickingto the principle of "inheriting civilization , disseminating culture, edifyingintelligence, serving society", Xiaogan city library provides information security andintelligence support for the city's economic construction. Meanwhile, the library plays an importantrole in enriching the cultural life of the public and helping the public tolearn by themselves. Over the years, Xiaogan city library has been enhancingservice levels by keep expanding service functions, innovating services,optimizing the reading environment. At present, the library has issued 30000reader identification cards to users in which there are above 10000 activereaders. Xiaogan city library receives 400000 users per year, more than 1000users per day. In addition to providing service in the construction, thelibrary extends its service into the government organizations, schools, troops,communities and enterprises, establishes red scarf reading-base and qualityeducation-base with most of Primary and Middle schools, developing many youngreaders, delivers books for the specialgroups in detention house, labor camp and drug treatment center, provides servicefor the handicapped and elderly. At the same time, Xiaogan library usuallyorganized lectures, exhibitions, essay writing and lholiday activities. Aroundcentral work of the government, the library sticks to serve deputies to NPC andmembers of the CPPCC during the two sessions, sets up incorruptible culturelibrary, Participates in counties and cities sharing projects construction andcountry reading room construction.
Xiaogancity library was acclaimed as National Advanced Cultural organization,Grass-rootsCenter of National Cultural Information Resource Sharing Projects, NationalEntire People's Advanced Reading Organization, National Second-classLibrary, Advanced Organization of Hubei Cultural Systerm,Top tenBranch Center of Hubei Provincial Cultural Sharing project, CivilizedOrganization in Xiaogan.Awarded as Social Science Popularization Education Baseby Hubei provincial Social Sciences Federation,Awarded as Youth Ideological andMoral Education Base by Xiaogan Committee of Communist Youth League,Xiaogan CivilizationOffice, Xiaogan Education Bureau, Xiaogan Culture and Sports Bureau and XiaoganCivil Administration Bureau.
Inthe face of requirements of social development,Xiaogan city library will keepplaying an important role in "Learning Society " and youthideological and moral construction,Keeping up with thetimes.In the new era, Xiaogan city library will make greater contribution tothe socialist construction of four civilizations.